HeartSaver CPR/AED & First Aid:
This Classroom based course from American Heart Association is for teachers, summer-camp workers, counsellors, coaches, childcare workers ,foster parents, parents, grandparents, siblings, babysitters, nannies, construction workers, general workplace (non Medical professions).
You will learn to perform CPR and the use of an Automated External Defibrillator(AED), and how to help someone who is choking.
First aid topics covers, bleeding control, seizures, Epinephrine pen use, allergic reactions, snake bites, broken bones, poisoning and blood Borne Pathogens
You will receive American Heart Association card (valid 2 years) on the day of class.
This course can be taken in parts:
HeartSaver First Aid
HeartSaver CPR/AED.
HeartSaver Bloodbborne Pathogen
All these courses can also be taken online if you prefer, followed by in class hands on skill session for CPR/AED class, conducted by our AHA qualified instructor.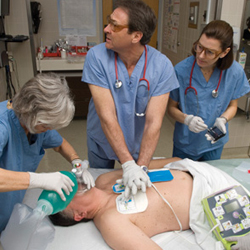 CPR / AED Healthcare Provider (BLS)
CPR / AED & First Aid Non-Healthcare
Group Rate BLS Healthcare Provider
Group Rate CPR / AED & First Aid Non-Health
Group discount available, Please secure your place on the next available course